Becoming a freelancer can be an exciting venture as it offers newfound freedom and flexibility in one's career. If you're a beginner freelancer and asking how to become a freelancer, and how to find high-paid freelance jobs - Owledge is here to help you!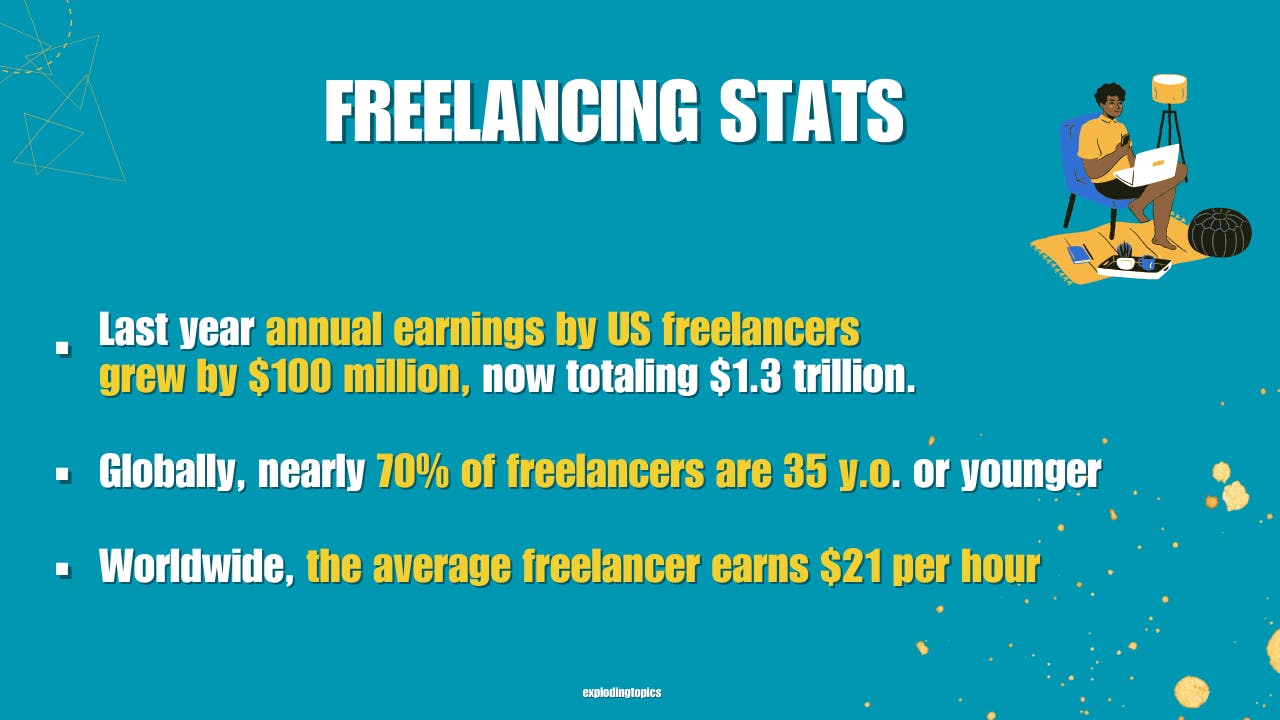 There are about 1.5+ billion freelancers in the world right now. The freelance platform market is worth $3.4 billion and continues to grow (According to Exploding Topics). Even being a beginner freelancer you unlock unlimited earning potential, control your work-life balance, and enjoy more freedom than working as a full-time employee.
So, what is Owledge?
Owledge is the online learning platform where experts share their knowledge on how to start freelancing, find high-paid freelance jobs, what are the best freelancing websites for beginners, and overall how to become a successful freelancer.
People lost about 225+ million jobs worldwide in 2020 due to the pandemic (CTV - ILO stats) and today we see that a huge amount of people are still struggling to find a job. But what if all these millions of people could have enough knowledge on how to start freelancing right after they lost their jobs? That's why we started Owledge.
Discord Community 🌎
Owledge is also a freelance community on Discord, where you can find not only freelancing news and remote work trends but also freelance jobs almost for everyone:
Freelance writing jobs
Freelance digital marketing jobs
Freelance video editor jobs
Freelance web designer jobs
Others
We post more than 100+ freelance jobs daily from the most popular freelancing websites - Upwork & Freelancer. There are also freelancing and remote work news channels as a part of our community. Individual contributors share their experiences on how to become a freelancer in short timeframe.
More About Freelance Jobs
If you don't know how to start freelancing and what is the right freelance job for you, we've gathered several articles to make your choice: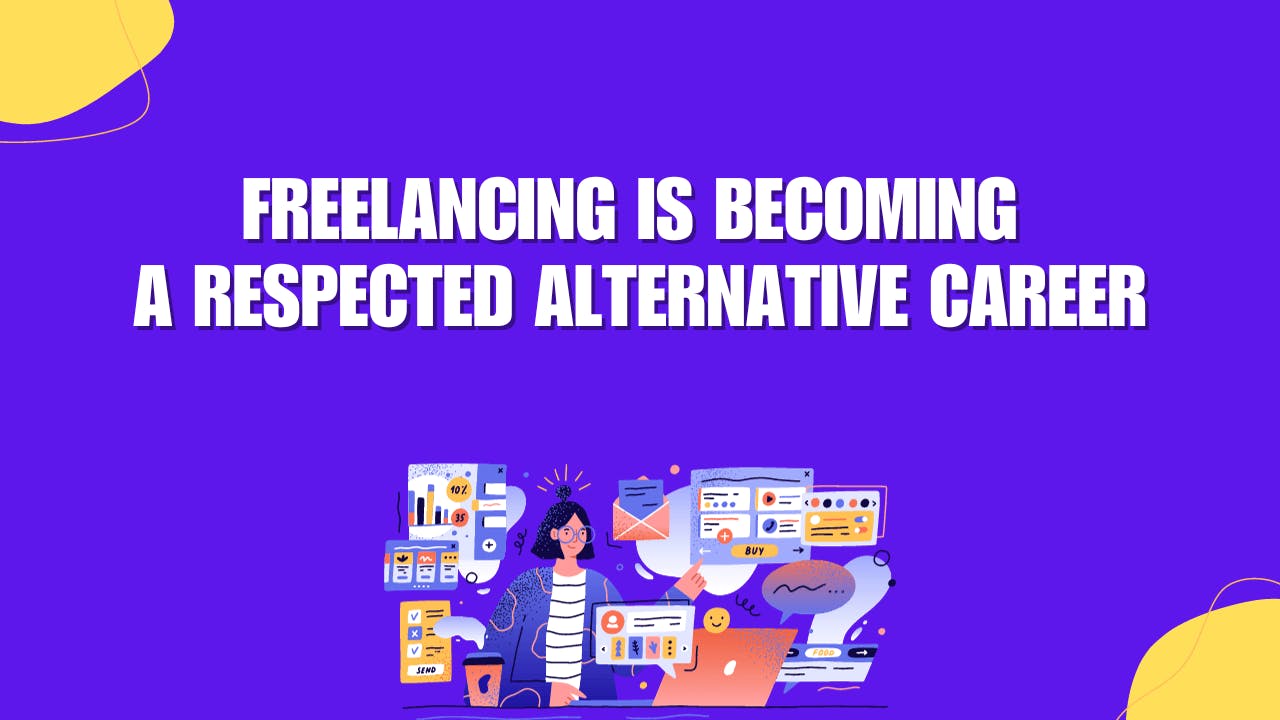 Becoming a freelancer in 4 simple steps 👨‍💻
Becoming a successful freelancer involves a combination of skills, strategies, and dedication. Moreover, nobody mentions that networking is a key to building a personal brand for your partnerships. Here are four steps you should consider:
Create a "salesy" service
Build a stunning portfolio website with good reviews
Know your worth
Work on getting clients
Create a "salesy" service
After you define what services are you going to provide, think about how you're going to market yourself. A little bit of storytelling always works.
By "salesy" service we mean not only your cover letter to the potential client but also how you position yourself on the market. Are you a "Top-notch Visual Designer who won UI awards" or just "5 years of experience as a Web designer"? Think about it, it's more important than you think.
Create A Portfolio Website With Good Reviews
Creating a portfolio website with good reviews is substantial. Having case studies similar to your client's request is even more important than having just good reviews. These are crucial things to consider if you want to become one of a kind freelancer:
Don't focus on custom development. Custom development usually requires more money spent and more time to design and develop. If you want to get started freelancing right away, choose website builders
Website builders such as Squarespace, and Webflow to create an eye-catching website fast. Don't spend your time on website builders like WordPress. It would cost you a lot of time and coding knowledge.
We usually don't say that, but you need to get good reviews. Of course, it's better to add real reviews because some of your clients can go for your background check. But if we're talking about quantity, go and add some fake reviews. Do the work for free and get real reviews as fast as possible.
Know Your Worth
Understanding and acknowledging your worth on your way to becoming a successful freelancer is a fundamental step. It empowers you to make informed decisions about pricing, client relationships, and personal and professional growth.
Competitive Advantage. By positioning yourself as a freelancer who knows your worth, you can stand out in a crowded market. Clients are often willing to pay more for professionals who exude confidence and competence.
Attracting the Right Clients: When you value your work appropriately, you attract clients who are willing to pay for quality. These clients are more likely to respect your expertise and provide you with growth opportunities.
Work On Getting Clients
You should understand that having even the best works doesn't mean you can sell yourself and your services. After getting several good reviews and adding some case studies to your portfolio, start to sell yourself!
Focus more on the sales process. You should spend 70% of your time selling your services and building a client base. The rest of your time you can aim at improving your skills and your case studies.
For getting first clients you can try Upwork, Freelancer, or Fiverr. If we're talking about more clients, try specialized forums and LinkedIn. The process of reaching your potential clients will be tough, but the reward is worth it.
To discover these steps in detail, check out A Guide On How To Become A Successful Freelancer article.
The reasons why becoming a freelancer could be challenging
Becoming a freelancer is not as easy as it seems to be. What challenges do beginner freelancers usually face on their way to success? As a freelancer, you should consider these several factors:
Self-Employment Responsibilities 🗂
The problem: By becoming a full-time freelancer you must handle administrative tasks like invoicing, taxes, and client contracts independently, which can be overwhelming without prior experience.
The solution we provide: Inside our web application you can find ready-to-use templates, contracts to offer your services as individual contributors, invoice tools, and much more.
Try Owledge For Free and check out these templates inside our web app!
Market Competition 📈
The problem: The freelancing market is often highly competitive, with experienced freelancers vying for the same projects. Beginners may find it hard to compete with established professionals.
The solution Owledge provides: By learning with Owledge you will understand not only how to start freelancing and make your first $1k, but also how to win high-paid freelance jobs, who is your ideal client, how to talk to clients, how to promote your services and others techniques on how to stay competitive.
We recommend trying our comprehensive guide called "Freelance Fundamentals" where we describe everything above.
Building A Client Base 💼
The problem: Establishing a solid client base takes time and effort, and beginners may struggle to find clients willing to take a chance on them.
The solution we provide: Building a strong reputation starts with a portfolio of your case studies. Consistently delivering high-quality work, and building trust in your personal brand is essential for every newcomer.
Check out our free course "Building a Stunning Freelancer's Portfolio Website" which will help you to build a strong portfolio and in the end - a strong reputation.
Isolation
The problem: Freelancers often work alone, which can lead to feelings of isolation and a lack of professional support or mentorship. A typical problem for those who used to work in a traditional office environment.
How we're consistently solving it: Our team is working on creating useful articles, providing you tips and life hacks on how to beat procrastination, how to work from home effectively, and how to set and achieve your goals. Additionally, we're working on integrating more features for better productivity inside our web application.
By scrolling down you can find a bunch of relevant articles 👇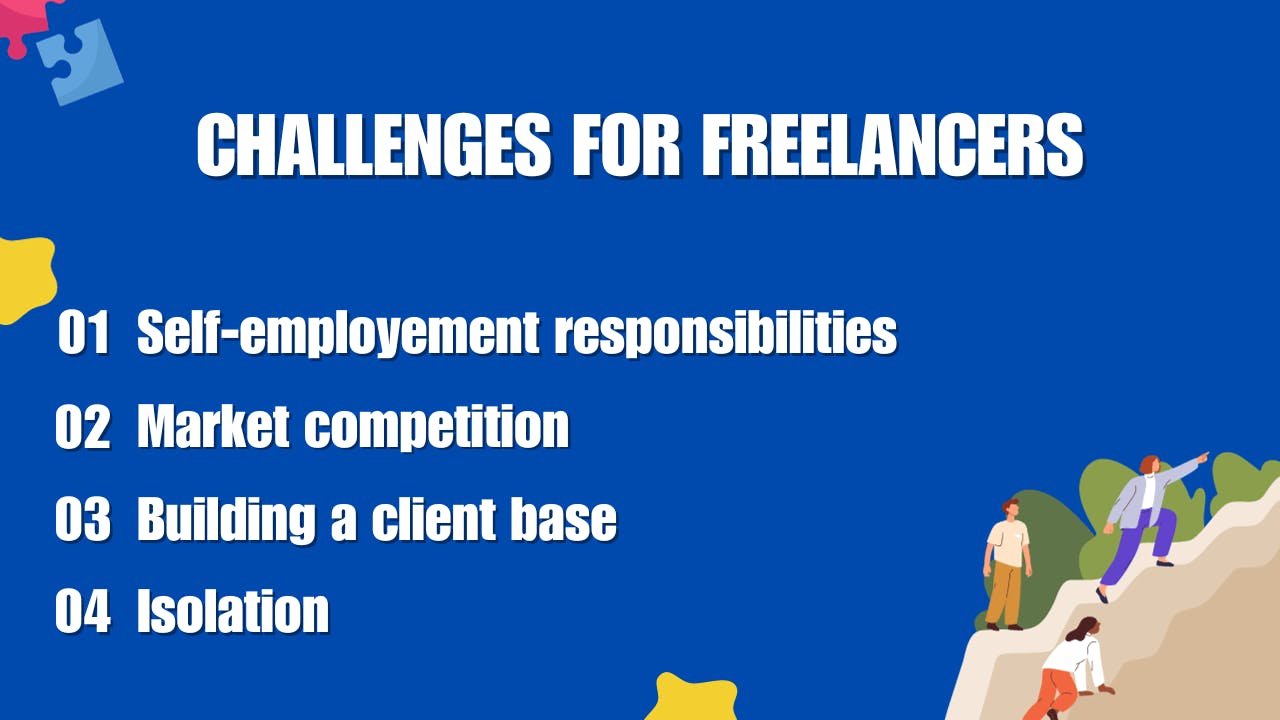 Become a freelancer by maintaining a strong work ethic and delivering exceptional results. Learning continuously and adapting to the ever-evolving freelancing landscape will help you build a successful and sustainable freelancing career.
Productivity while freelancing
Productivity is crucial in freelancing because it directly impacts income and job stability. High-productive beginner freelancers maintain a healthy work-life balance, reducing burnout and ensuring the sustainability of their freelance careers.
More Articles For Beginner Freelancers 📝
In the following articles, you can read about well-paid freelance skills, freelancing for beginners guides, freelancing tips, and much more:
Freelancing Courses For Beginners 🔖
Freelancing courses are essential for everyone who wants to become a freelancer. They provide valuable knowledge and skills that can become a game-changer. Check out some of Owledge's courses:
Conclusion 📌
Becoming a freelancer is hard, but it offers not only the freedom to work on your terms but also the opportunity to pursue your passion and unlock your full potential.
Happy freelancing!
### More Useful Links
Join Our Discord Community - we post 100+ remote jobs daily, freelancing news, and remote work trends!
Tired of your 9-5 job? Try Owledge For Free and start building a freelancing career right away!
Follow us on Pinterest, we regularly share a myriad of viral content there!